Green roofs are generally very low maintenance, especially when they are maintained properly from the beginning. However, most roofers do not have the skillset to maintain green roofs; likewise, most landscapers do not have the roofing experience or proper insurance to do rooftop work. Evergreen Environments offers a unique blend of these two disciplines, which results in a superior performing green roof.
We see time and time again where large amounts of money are spent on a green roof and no provisions are made for the care of the plantings. Don't let this happen to you. Protect the investment in your green roof with a living roof maintenance package from Evergreen Environments.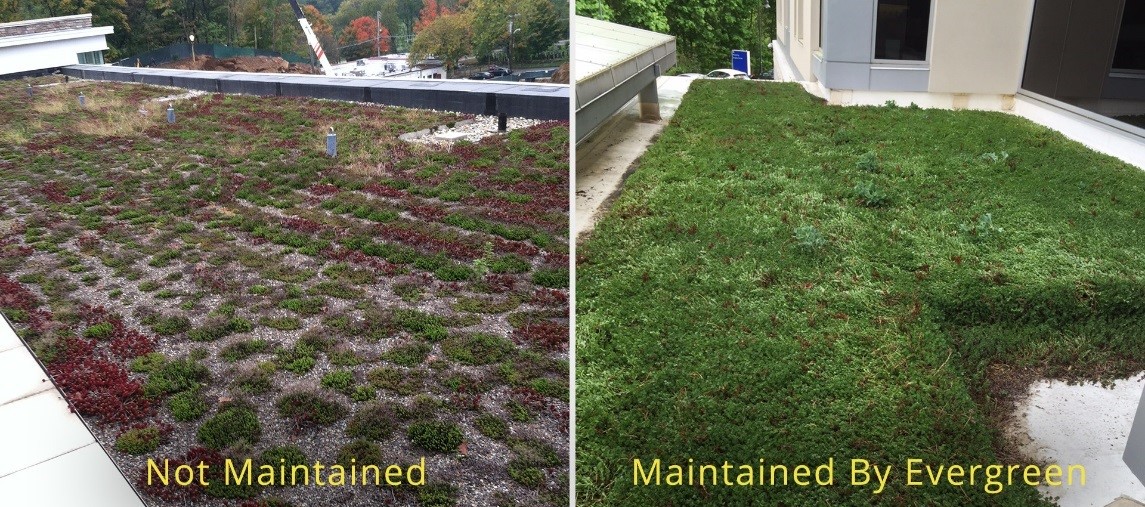 Our maintenance technicians will come once per month to perform all services need to keep your green roof healthy and functioning properly.
Weeding
Pruning
Fertilizing
Identify and cure fungus and diseases
Soil tests
Clean & inspect drains
Maintain irrigation system
Replant bare patches
Hand watering
With our comprehensive maintenance package, all plants are fully guaranteed for as long as they are maintained by Evergreen. While we strongly recommend a comprehensive maintenance package, lower cost maintenance packages with fewer visits and no plant guarantee are also available.
While service calls are available for customers on an as-needed basis, owners should consider protecting their green roofs with the help of one of Evergreen's seasonal maintenance packages. These money-saving packages include all services necessary to keep your green roof in top shape. Purchasing a seasonal maintenance package allows Evergreen to resolve any issues quickly and proactively, preventing problems from developing down the road. These comprehensive seasonal maintenance packages ensure your green roof will be checked in-season by an Evergreen staff professional to make sure there are no problems with the roof's function or coverage.
Green Roof Maintenance Packages
Basic Maintenance Package
Bi-Monthly Visits
Inspect Plant Health
Weed Vegetated Areas
Inspect and Clear Drains
Remove Debris
Fertilization
Roof Pruning
Complete Maintenance Package
Same as Basic Maintenance- PLUS
Monthly Visits
Full Guarantee on Plant Material
100% Weed Free Roof
Watering as Needed
Free Repairs
Intensive Green Roof Package
Same as basic maintenance- PLUS
Cut back Perennials end of season
Tree Pruning
Mulch beginning of the season
Extra fertilization
Additional Services
Spring Clean Up
Autumn Clean Up
Watering Services
Irrigation Maintenance
Service Calls
Not typically needed | Quotes will be provided before any extra service is performed | Billed per job
**Pricing(based on 12 payments /yr.)
---
Call Evergreen Environments today at (888) 798-0709 or email info@evergreeninc.net to purchase your seasonal maintenance package. Save today and know that your green roof is being meticulously maintained by the Evergreen team!